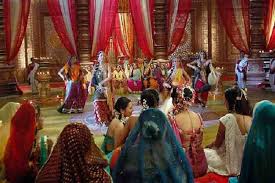 Punjabi Ladies Sangeet
"Punjabi Ladies Sangeet: A Joyful Celebration of Tradition and Togetherness"
Introduction:
Punjabi Ladies Sangeet
,
also known as "Ladies Sangeet Night" or "Mehndi Ki Raat," is a vibrant and joyous pre-wedding celebration deeply rooted in Punjabi culture. This article explores the rich traditions and customs of Punjabi Ladies Sangeet while providing valuable insights on how to organize and make the most of this memorable occasion. Let's dive into the world of Punjabi Ladies Sangeet!
Table of Contents:
Understanding Punjabi Ladies Sangeet: A Cultural Extravaganza
A brief history of Punjabi Ladies Sangeet
Significance in Punjabi weddings
The evolution of this cherished tradition
The Role of Music and Dance in Sangeet
Live music vs. DJ: Which one suits your celebration?
Popular Punjabi folk songs for Sangeet
Choreographing dance performances
Mehndi Ceremony: The Art of Henna
The symbolism behind applying mehndi (henna)
Choosing the right mehndi design
Mehndi application customs and rituals
Sangeet Venue Decoration and Ambiance
Lighting and ambiance for a festive atmosphere
Setting up a comfortable seating arrangement
Dressing Up for the Occasion
Traditional Punjabi attire for Ladies Sangeet
Accessorizing with jewelry and ornaments
The significance of wearing vibrant colors
Traditional Customs and Rituals
Performing the "Ritual of Haldi"
Exchange of gifts and blessings
The importance of "Tilak" in the ceremony
Sangeet Games and Activities
Ice-breaking games for the bridal party
Fun activities for guests
Creating memorable moments through games
Culinary Delights: Food and Drinks
Punjabi cuisine for Sangeet night
Signature dishes and snacks
Specialty drinks and mocktails
Capturing the Memories: Photography and Videography
Hiring a professional photographer
Must-have shots for the Sangeet album
Creating a memorable video montage
Inviting and Managing Guests
Sending out Sangeet invitations
Guest list management and RSVPs
Coordinating with vendors and entertainers
Modern Twists and Personalization
Incorporating modern elements into tradition
Personalizing the Sangeet to reflect the couple's story
DIY decor and craft ideas
Punjabi Ladies Sangeet
is not just a pre-wedding celebration; it's a vibrant expression of love, tradition, and togetherness. By embracing the customs, music, and rituals of this joyous occasion, families can create lasting memories and celebrate the union of two souls in a truly memorable way. Whether you're organizing a Ladies Sangeet or attending one, this guide will help you appreciate the cultural richness and festive spirit of this cherished Punjabi tradition.